Registrierte Benutzer

Zufallsbild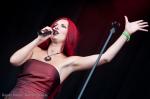 DSC01902
Kommentare: 0
RainerRuber






| | |
| --- | --- |
| 14.12. Stuttgart | |
---
Subway to Sally auf Schwarz in Schwarz-Tour Teil 2: das Theaterhaus bekam die sieben Potsdamer und ihren Support Megaherz wieder zu Besuch. Und was für ein Besuch! Die Freundschaft zwischen den beiden Bands zeigte sich am Schluß, als Megaherz zu Subway to Sally auf die Bühne kamen und einen Megaherz-Song (war es Miststück gewesen?) zusammen spielten :-)
(Hits: 1104)



Gefunden: 0 Bild(er) auf 0 Seite(n). Angezeigt: Bild 0 bis 0.

In dieser Kategorie sind keine Bilder vorhanden.